Lifting slings according to Machine instructions 98/37/EC
They constitute the equipment of the machine; they are placed between the machine and the load or on the load in order to hold it and move it. General conditions of safe usage and control are governed by the following standards PN-EN 13 414- 1 and PN-92/M- 84720.
Workers handling the lifting operation should be basically trained to meet requirements of knowledge and practical experience necessary to conduct this action. The above requirements apply to the lifting slings of the following matters: single-strand slings, double-strand slings, triple-strand slings and quadruple-strand sling. Performances of the slings are placed on the aluminum connector or put on the separate label.
Synthetic fiber lifting slings
Before you start operation of the lifting sling, it is important to check if the lifting sling does not have any defects or mortal faults and make sure if the lifting sling is equipped with the right label which informs about the maximum permissible working load DOR, in English LULL. The label must have additional information on the layout reporting how to change the values of the lifting sling, depending on the way of its usage. During usage, the lifting sling should be protected against any actions of sharp objects, by implementation of protective sleeves or overlays. Every lifting sling, depending on the DOR/LULL value, has got its own colour and the registered factors of safety 7:1 which meet the EN 1492-1 European standards.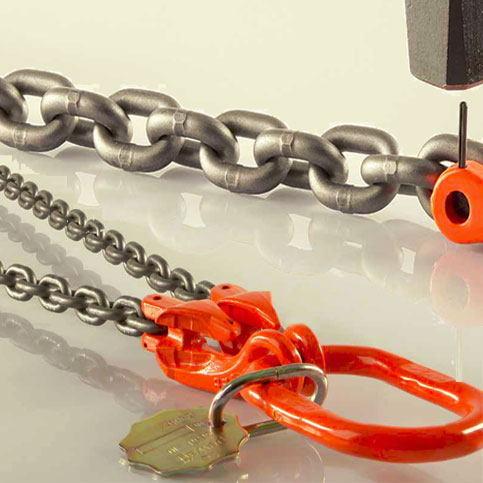 Single-strand slings
ø
DOR / WILL
With tha angle of 0˚
With the truss up
8,0
700
560
10,0
1050
840
11,0
1300
1040
12,0
1550
1240
13,0
1800
1440
14,0
2120
1700
16,0
2700
2160
18,0
3400
2720
20,0
4350
3480
22,0
5200
4160
24,0
6300
5000
26,0
7200
5760
28,0
8400
6700
32,0
11000
8800
Double-strand slings
ø
DOR
8,0
0,8
11,0
1,2
13,0
2,0
16,0
3,2
22,0
5,0
24,0
6,3
26,0
8,0
30,0
10,0
Quadruple-strand sling
ø
DOR
8,0
1,2
11,0
2,0
13,0
3,2
16,0
5,0
18,0
6,3
20,0
8,0
24,0
10,0
26,0
12,5
30,0
16,0
32,0
20,0
Double-strand slings
ø
DOR
6,0
1,6
8,0
2,8
10,0
4,2
13,0
7,5
16,0
11,2
20,0
17,0
Quadruple-strand sling
ø
DOR
6,0
2,3
8,0
4,25
10,0
6,7
13,0
11,2
16,0
17,0
20,0
26,5
Double-loop slings
ø
DOR
6,0
2,3
8,0
4,25
10,0
6,7
13,0
11,2
16,0
17,0
Polyester belt lifting sling
Usage
Coefficient of corection
1
0,8
2
1,4
1
Purple
1000
0,800
2,000
1,400
1,000
Green
2000
1,600
4,000
2,800
2,000
Yellow
3000
2,400
6,000
4,200
3,000
Gray
4000
3,200
8,000
5,600
4,000
Red
5000
4,000
10,000
7,00
5,000
Brown
6000
4,800
12,000
8,400
6,000
Blue
8000
6,400
16,000
11,200
8,000
Orange
10,000

12,000

15,000

20,000

8,000

9,600

12,000

16,000

20,000

24,000

30,000

40,000

14,000

16,800

21,000

28,000

10,000

12,000

15,000

20,000

Lifting slings of the Fksh type with clamp-connector made of the T 6×19 ropes and the WS 6×36 ropes
Łęgska 3, 87-800 Włocławek, Poland
tel. +48 54 231 46 60
tel. +48 668 167 328
e-mail: metalmex@metalmex.pl
e-mail: technologie@metalmex.pl